Finding a Groove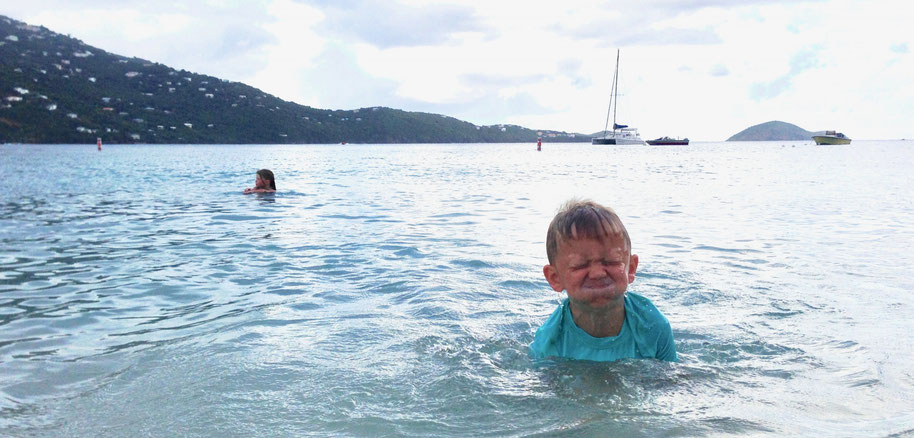 How are we?
Things are starting to come together on our boat. There have been some times when we are leaving a beach or marina or somwhere and saying "are we ready to head back home?", meaning, back to the boat. It just comes out. It's just as natural to say "are we ready to head back to the boat?", but "home" usually comes out first.
I wouldn't say that our boat feels perfectly like home, but it is certainly on it's way. I remember a friend of mine telling me weeks after she had moved her family to a new city saying "I go through moments of feeling like we've done the wrong thing and we need to head back to our old place, and moments of feeling this is exactly where we need to be". I feel those same feelings just about every day.
There are moments of beauty and bliss where I can't imagine being anywhere else, doing anything else. And then moments of aching for home and stability and all my comforts within arms reach. It's a constant ebb and flow of emotions. These days, it is getting less of a tug and pull, a little easier on my heart strings and my mental state. I literally have dreams of shopping in my old neighbourhood, or walking to the library or just sitting with my mom to have tea. Those are hard moments, especially after we've just motored through open ocean waves for two hours just to get to a harbour that has laundry and decent groceries. I remember fondly the days of holding my kids' hands for the eight minutes it took to get to "our" grocery store, where we would probably recognize someone and have a lovely time catching up. It's the little things that tug at my heart sometimes.
Then there are other moments, wandering around and I run into these incredible people that I have been following online for months and there they are, right in front of me in line at the gas dock, and they are happy to chat with this fan-girl. Everyone we have met has been simply incredible. Truly. I wouldn't make that stuff up. We had one new friend mention that "meeting people on boats, it's as if they have already passed through so many filters already: you are very likely to have a lot in common". It's true. Boat folk tend to be easy going, easy to talk to, a plethora of experience and willing to share what they have learnt (good and bad!). Those moments have been good, leaving my heart full and my cheeks sore from smiling.
Matt has been in his element, I'd say. He is finding a routine, in which every morning, he needs to be productive somehow. He'll usually work on a project or two (or seven) and get something significant done before 9am. He needs to work at something and see progress. He'll have a much better day if he does. He does a great job taking care of us all, especially me, as I ride all these emotional waves. For every time his temper may be short, his cuddles are jokes make up for it. I am constantly amazed at what this man knows, especially to do with boats. We've got the best captain on the seven seas with us! I can watch him instal/fix/build something and suddenly hit a wall saying "well, I just ruined that", throwing hands in the air in defeat. Ten minutes later, I come around the corner and he's fixed that problem and is working on a way to make it more efficient. When he can't fix stuff on our boat, he'll find someone else who needs something fixed, like the crew of a Scottish family who's dinghy pull cord busted. Over he goes, with his little bag of tools and gets the job done, just for fun. We have very different ideas of what fun is, but I am sure glad.
My idea of fun these days has been quiet moments of reading my book (loving my dear Kobo) or sipping some wine in a  good mood. I look forward to bedtime and read for a good long while before sleep. Sleep has come easily, though it is never solid through the night. The nights are long, close to 13 hours and it is not always comfortable. It is often hot, it usually rains at least once and sometimes there are bugs (come and stay with us, really!). We manage, somehow and usually can recover. We are sorta running on those same fumes as parents of newborn. It's not quite that dramatic, but good sleep, when it comes, is a blessing.
Piper is sometimes her best self on the boat. I say sometimes because she could probably use a little more space some days (she's more like me that way). Normally, she is happy to play with Digory for a good part of the day, but sometimes she just needs some quiet book time, and little brother will rarely accept that. But we are finding that the age of seven is an incredible age for a kid to travel (I remember saying this when Piper was five as well, so maybe she's just an awesome kid to travel with?). She can read everything and help out and has enough body strength to be useful, like, actually useful! It's quite nice. She is a great helper, with dishes and some tidying and is happy to put herself to bed. She reads a lot on the boat (send more books!), and we can't really keep up. I am getting her some books on my Kobo so she can have more, but then we have to share and that doesn't always work out either ;) Overall, we have had very little drama with her and she's adapted really well. She is a little more afraid of some fish in the water and of snorkelling, but she is working on her free-diving. She can dive down really deep all on her own, which is super impressive, but she will rarely venture out with us on a small snorkelling adventure. But we think she'll get there! 
Digory has become a good little boat buddy. Of the two, he is the more dramatic and needy one, but that's not any different from home. He will usually wake up and need a cuddle still and we are happy to give him one. He's recently started crawling into Piper's bed in the morning and she'll read to him. It's really quite sweet. 
He's had a bit more of a tough time adjusting to the lack of food choices and availability but he's getting there. He will eat rice now, which is a huge accomplishment! He is our little fish, willing and ready to swim at any time of the day. This morning he was out swimming before breakfast (with supervision, don't worry). He is fearless in the water, and will dive down under the water with his snorkel to chase a fish, resurface, clear his snorkel and go and find it again. He's had one scare when the boat swung away from him after he had jumped in and he had a big swim to do back, with wind against him, but even with his scared little face popping up out of the water for air, he kept swimming and made it all the way back to the boat under his own power. It was a touch scary for him and us, but it was a good lesson at the end of the day. 
Digory would play all day. And he usually does. There is almost always Lego on our table inside, and if not Lego, then Shopkins or Calico Critters or his stuffies. He has quite the imagination, and he and Piper make up the most interesting games. He is a little more reluctant to work on homeschool material, but we are getting there. Once he gets into it, he is happy to try out new words and sounds. 
Five weeks in, I feel like we are gelling into our family unit once again. It felt rather stressful for a while, but lately it's been feeling like this is us. Thanks for your support and prayers and we journey through this adventure. We definitely miss "our people" but we ca hear and feel you cheering for us and it warms our hearts greatly.