New, Solid, Forever Friends.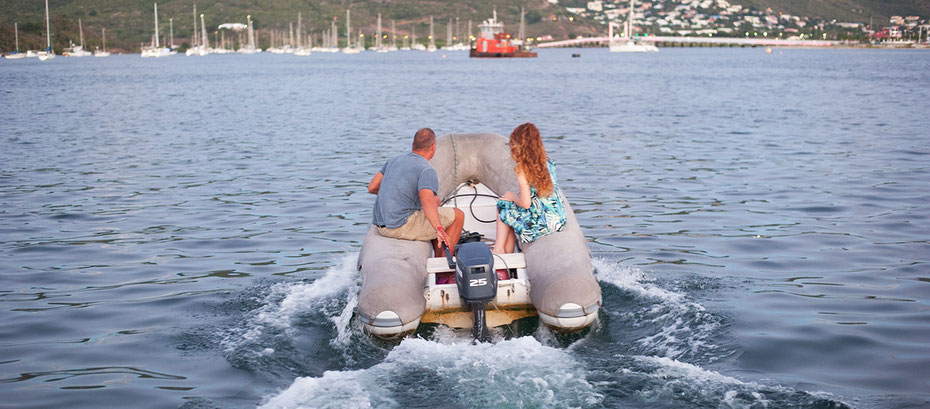 There aren't really adequate words to explain how it feels to buddy up with some cruising friends after a lovely evening at the beach, and all form a conga line of dinghies to ride back to our boats together. There have been many evenings when we don't have the best flashlight or our batteries have run out, and we're worried about making it back to our sailboat safely. There is always a friend who says "just follow me back, I'll lead the way". And off we go.
Now, if you haven't had the chance to dinghy through a crowded anchorage in complete darkness, it is a special challenge. Some sailboats have their outdoor lights on, some not. Some dinghies have their lights on, some not, and then there are the buoys in the water or channel markers (or in the case of the St. Martin lagoon, garage floating). I find it enough of a challenge to navigate during the daytime, so once the sun goes down, it's all inky dark water marked by flecks of light here, there and everywhere. You can't go too slow because you tend to get wet with the waves lapping at the dinghy, but you can't go too fast either because there are moments when you can't tell what is in front of you. So we push the throttle and follow the light ahead of us.
I don't know what it is, but when you're trailing behind a friend (or two) through the darkness, all with keen eyes for keeping each other safe, it's this fierce togetherness, this solidarity that warms my heart to the brim. We follow their light and their wake and trust as they lead us through the waves until we reach our own floating home. Then there are farewells in the dark, headlamps shining in faces, kids trying to hug over the pontoons of the dinghy, and I just can't stop smiling. Remember, these are all people we've met a few months, weeks or days ago. But they take care of us, and never leave us hanging in the dark. 
ps: we now always have a spare flash light and spare battery with us, and usually pack another light just in case. And then, Matt bought me this. Romance looks a little different while you're sailing ;)