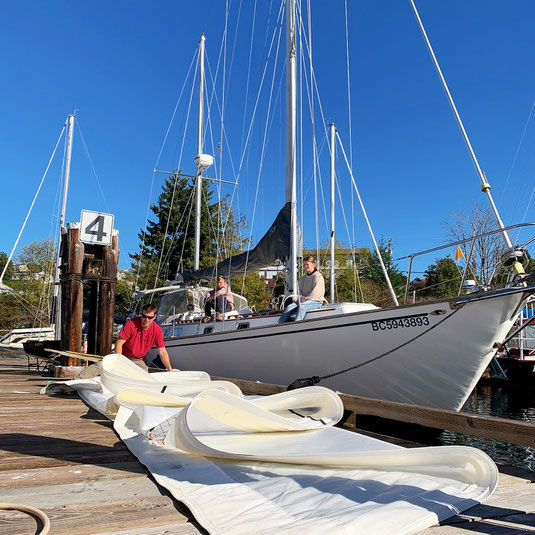 "It'll be so much easier if I have help," Matt mentioned before he was about to leave the house on one of the few semi-warm days in October. 
I was not feeling well, after a busy weekend of socializing, and the kids were happy to lounge in the sun and read the rest of Sunday away. Matt didn't beg or even use his puppy-dog eyes, but it felt like the right thing to do. Some fresh air, a change of scene, something to change up the day.
Somehow, what started out as a solo mission suddenly became a whole family affair as Matt had somehow rangeld the kids to come along to the marina as well.
Once we were all down at the boat, it wasn't that big a project to take off the sails for the season. We had been waiting for a window of time where it wasn't too cold or windy out, and this seemed like it might be one of the last. Luckily Digory and Matt had got one last sailing adventure that weekend, and declared it was getting way to cold to keep sailing - and Matt was getting antsy to get going on some pretty big projects.
With the kids operating load after load of marina wheelbarrows up to the truck, we all plugged away hauling sails down and folding and hefting again, back and forth and back again. It was a great afternoon for it, though it was a little sad to see the boat without any sails on her anymore. Though, we were happy to see that the sails all seem to be in good shape with no major issues so far. They were all due for a clean and a nice dry place to stay over winter.