Where is all this sailing happening?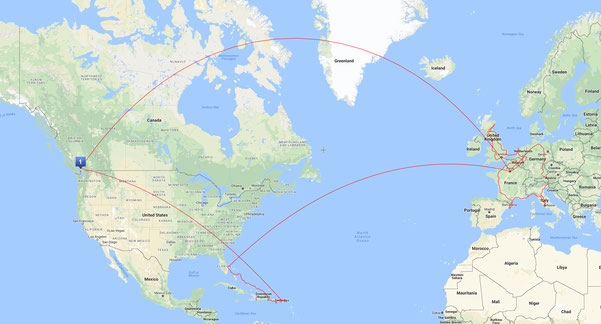 The Route.
So much depends on where we end up buying our boat, so we have to keep our options open (as with anything sailing related). One option is to start around the BVI's and continue south, or vice versa. Or to start and find a boat in Florida and head to the BVI's through the Keys and the Bahamas would be a treat, but we're keeping our options open.
---
Places we would love to visit on our way
British Virgin Islands
It's so gorgeous in the BVI's and we have some familiarity with it now, so it's an "easy" stop, but we would love to get to know them better. (Would also love to explore the rest of the VI's)
Martinique
This is high in my list! I've heard it's like a little piece of Paris in the Caribbean. I would just love to linger in Martinique for a long time, practice my french and pretend to be in Europe.
Panama Canal
This seems like our Everest. I am terrified of all the legal stuff and paper work and being crunched by a cruise ship. But it's our way to the Pacific and we will manage it somehow.
Galapagos Islands
Need I say more? We feel like this is a once in a lifetime experience to get to see these islands and would so love to explore it as a family at sea. No words. It would just be so incredible.
French Polynesia
This seems like a pipe dream, as if we couldn't actually get here, especially with a Pacific ocean passage to get there, but we sure want to try! 
Hawaii
None of us have ever been to Hawaii and would love to discover it by boat. It would also be our last land stop before heading back to Canada.
** Again, keep in mind that none of this is set in stone, but we do need to have somewhat of a plan (for our parents sake, if nothing else!). We will always play it by ear and take our journey one step (or wave?) at a time and constantly reassess for what is best for our family as a whole. We are not out to beat a world record, we are out to explore together and see the world in a different way. If plans change, that is fine. But we can still dream!