Our First Days Adventuring
 So I suppose our journey has begun. Let me begin with admitting that both Matt and I have confessed that at some point already, we've wanted to go back home and forget any of this has actually happened.
Most of it has been plain old home sickness, some of it has been fear of the unknown, some of it has been the fact that sweat has been running down various cracks on my body for weeks solid and I'm not always loving it.
I am telling myself that this is a massive life adjustment and that these things take time. We will adjust somewhat, someday the boat will feel like home and as for the sweat, I will just  make sure to drink lots of water and possibly invest in some sort of electrolyte replacer.
Not to whine while we are in this beautiful spot, but it ain't all a holiday. Our biggest struggle, after we got the boat in the water was to get it registered as a Canadian vessel. We had spent the day roaming around Road Town, tracking down insurance brokers and our charter company we bought the boat from, walking here and there, with the kids all of us on the verge of tears at some point or other, we did make progress.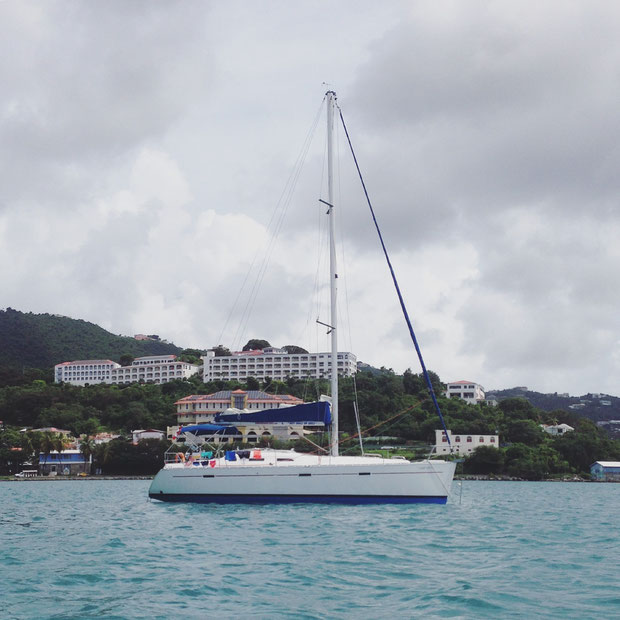 We now have an insured boat, and we know what to do to get it properly registered now. These things just take time. We were worried we wouldn't be able to get back into the BVIs once we left (to pick up my brother and sister in law who were coming to visit, landing in the USVIs), but as it turns out, things are running on Caribbean time here and rules aren't too strict. We haven't needed the registration number to date, though we continue to work hard filling out the forms to get it and waiting for the emails in return.
We've had some short fits and starts of business or "town days", as we call them to the kids, of getting things done and then to have a nice chill family day at the beach and try to relax. We had a perfect couple days in Leverick Bay, where we quickly met a family with similar kids to ours and we spent two glorious days on the beach with them, chatting about nothing and everything, forgetting about our current drama and just soaking in a new environment with new people. It was lovely. We did laundry, had showers and topped up the boat. Then, back to some paper work or "town days".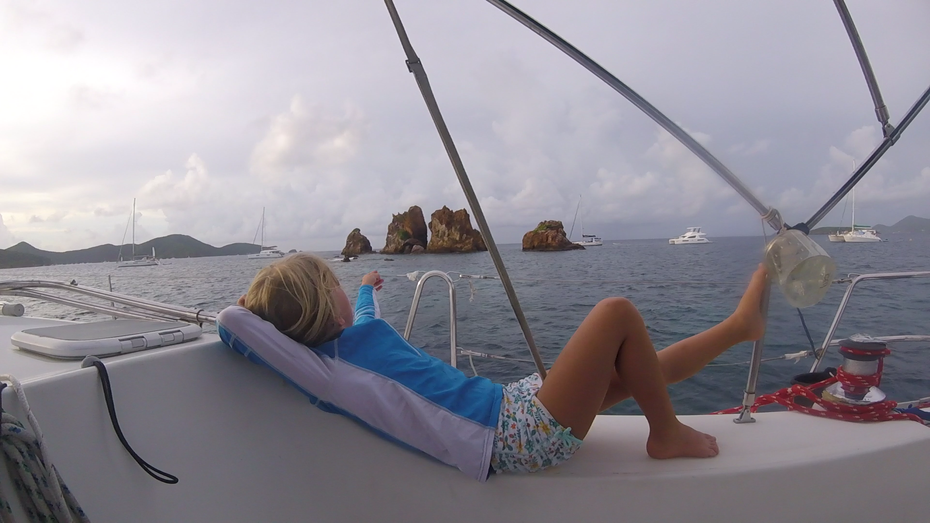 Next we began to make the trek towards the USVIs. This is all unknown territory for us. Matt had shipping a huge container of tools and our water maker to an address in St Thomas and we really just had to trust that it would all make it. We were heading that way to pick up my brother, Dawson, and his wife Rebecca, from the airport and to collect the tools. If it were up to me, I would have just fast forwarded the next little while. I will admit that I am a jerk sometimes when I am hot and under -fed and stressed out. I may or may not have been a "good sport" through all of that adventure. 
In hindsight, travelling  to the USVIs went off without any real issues, besides the time it took to get there. It was a longer and a shorter journey than we thought. Some bays we anchored in were delightful and others were rough. In the end, we got there just fine and picked up family easy-peasy (we literally anchored 5 minutes away from the airport: walked up a hill and found Daws and Becca, walked down the hill and went back to the boat).
We had some minor drama at Red Hook in the USVIs, after Matt had picked up his huge box of tools (150 pounds of tools!). Upon paying the cab driver, he somehow left his wallet in the cab, got on the ferry back to the BVIs and called it a day. It wasn't until much later that he realized what had happened. He was extremely put off (his time to be cranky now!). It was a big blow to our confidence and moral in general. We all sorta moped for the day and into the next. We had made it back to Soper's Hole on the west end of Tortola, stocking up in their good grocery store when Matt ran in to find me, with his arms upraised and bouncing. 
"The best news ever!" he kept shouting. I figured we had our boat registry number or something, but he said that the cabby had found his wallet and gotten in contact with him and could meet him back in the USVIs to get it back. We had some serious yeeeee-hawwwwing in the middle of the store. We didn't have to cancel all of his cards and replace them or even remember what exactly was in there. It was a huge blessing. There are still good people out there in the wide world. It's true.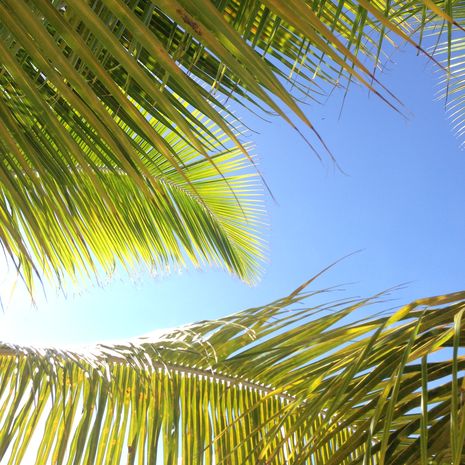 For now, we are playing tourist with my bro and sis-in-law, back in the BVIs and trying to show them our favourite places. I can write more about our adventures later, but we are soaking in all the lovely things. The kids are constantly in the water, we've spotted multiple sea turtles, sting rays, huge fish, little fish, big crabs and little even some squid. I like to think we are still having a good time. I keep cooking and cleaning for us all, trying to stay on top of laundry and groceries and trying to squeeze in some homeschooling (but it is taking a bit of a backseat these days with guests over- sorry Ms. Julie!). It is really much like being at home, just with more sweat and a lot more sun.
Don't get my wrong: we are having a great time. We've had some great time sailing which is a great time to recalibrate - a forced slow down. We've met some INCREDIBLE people already. My heart is a yoyo with all the things it feels for the friends we have at home and these new ones we make. I've had tears over some happy moments, like when the nice lady let us use her scanner and printer. And then cried when I was able to FaceTime with my mom, not realizing I really did miss her face! But happy tears. So many feelings, up and down. But I remember these are still early days, and we are still ironing things out (like where to put 150lbs of tools?). Again, grace all day every day. And then cry when I need to.
Thanks again for all the love and support following us on this journey. We truly love having you all along for the boat!