Planning a Route, but Which One?
** don't take the red lines as literal stop points. I just scribbled in Photoshop a general direction. We might skip an island/coast line here or there. It's just a general idea of how things might go. **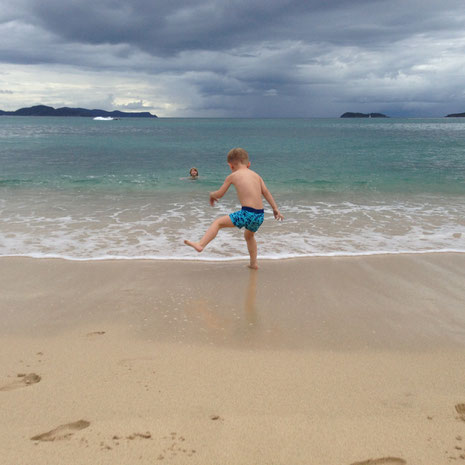 As we've been travelling around (well, not so much these days), we've been altering or adding to our journey destination ideas. It's actually mostly by the people we meet, that our plans change or expand. We've met all sorts of people on the trip so far, and we've gathered some really fantastic ideas on how the rest of our trip might go. 
The people we have met have either done parts of the journey already, or have heard a lot about it, or have some new information to contribute that we knew nothing about. It's stuff you don't even think to look up on Google! It's been quite illuminating.
Here are some of our favourites, and who knows, maybe we will add some more as we continue onward! 
Our original plan, which is still on the table, can be found here.
The Ultimate Route: To Australia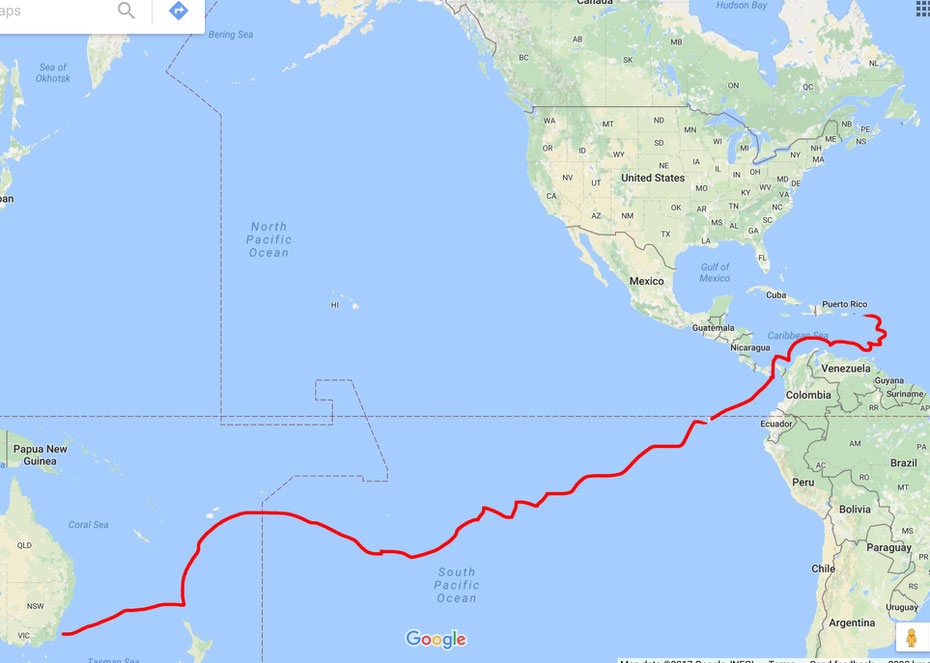 This is an idea that we've come across through our journey that we never even really thought about at home. The more and more people we have met, especially in St. Martin, we've heard that Australia is a really good option for the end of our trip. Apparently, boats sell very easily in Australia, even our very basic "production" boat. This route would be an incredible option to end our trip, as we could sell our boat for a decent price (according to all the lore!) and easily fund our plane tickets back home, and get a trip to Oz out of it. 
Obviously, this is also the most extensive travel option. Look at that route! It's insane. It is also a little more time sensitive than others, too. We have to watch out for bad weather around Australia and New Zealand, which means we would have to leave French Polynesia at a decent time, which means we'd have to get through Panama at a better time and on and on the timeline goes. It could start to cramp our style, to have to hustle to get somewhere for a certain time. We don't ever want to rush through rough weather if we don't really have to, to not have the flexibility to wait it out. This route could easily take much longer than a year, as we would likely have to wait out hurricanes somewhere (our friends from Sailing Salty Kisses are thinking to wait it out in San Blas near Panama and that sounds like a nice idea!).
So we'll see. This would be SO incredible, but I'm not holding out for it. We aren't on this trip to make our money back on our boat, we are fully planning to lose a lot of what we've put into the boat, but this option would hopefully give us some financial wiggle room. But again, none of those are concrete promises. But seriously: sailing around NZ and Australia?! How cool would the be?!
Caribbean only - x2 seasons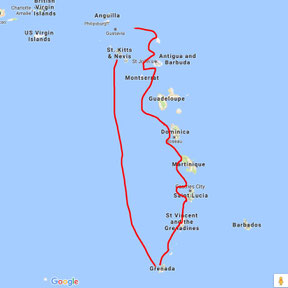 This route has always been an option. We've heard from our friends that we could cheaply put our boat up and away for the hurricane season in St. Kitts, which could give us a chance to go back home and work and recoup somewhat. It would also give us another season (or more!) with the boat, as we could come back down in the fall/winter and do it all over again! or at least re-evaluate and see what we want to do.
The downside to this plan is we would likely have to live somewhere temporarily back home, which isn't always the best. But it's an option. I personally like thinking that we could get back home sooner, but I know leaving a boat to sit is never good and is a lot of work and is a lot of money, even if we get a good deal. 
We have friends here who do six months on the boat and six months at home and just make it work. It's all about perspective. I do see us making that work, but I also know when we get back "home" (wherever that might be in the end), we wanna settle down somewhere and plant roots.
Original to Alaska plan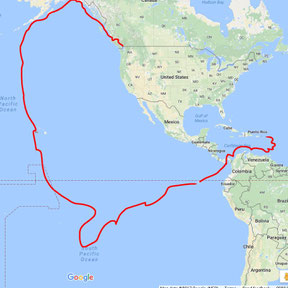 This was a new discovery for us, as well. According to the wind and weather, it would be much easier to leave Hawaii and head further north to Alaska (instead of a straight shot for Vancouver) and then come down the West Coast of Canada to home. Again this is a bit of a time constraint as we really don't have an ice-breaker on our Beneteau, so it would be done in the summer. But what an incredible coastline to see! To come from the tropics and all the way up to the far north? It's a really lovely idea and we've always loved the idea of getting the boat back home. The idea of getting the boat back home gives us so much freedom to relax and make a plan but still have a home to live in while things fall in place. But this is also a huge route. This involves some pretty huge passages, but gets us home with our boat. Deep down, I think this is a better route than our original plan, as we've heard more and more than the leg from Hawaii to Vancouver is likely to be the worst passage imaginable. So I would prefer not to sign up for that. Alaska, ho!
Caribbean and East Coast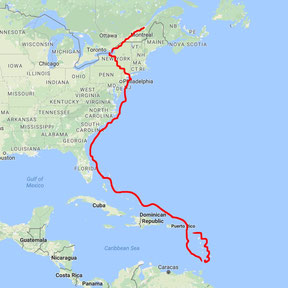 Again, after meeting people who have done this trip, it's an option that we hadn't thought of too hard. But it is a lovely option. This way, we could see the Bahamas and the East Coast of the USA (I've always wanted to see that coast! So much history!) and then up the Canadian coast or inland through the Great Lakes. This route would end us up in Canadian waters where we could easily work and live and either sell the boat or get it ready for another trip. The downside here is obvious: winter! I have NO desire to strap on those huge saran-wrap style boat condoms that people use to winterize their boats on cold weather coasts. And again, that is a bit more adventure than I'd like. Maybe I am a fair weather cruiser ;) I LOVE this plan, because as much as Matt cringes, I have always wanted to live in a French-speaking community with my family. At some point in my life, I would love our family to experience that (granted, we are getting a bit of that in St. Martin). But, as with all plans, it comes with pros and cons (taking the mast down being one of them).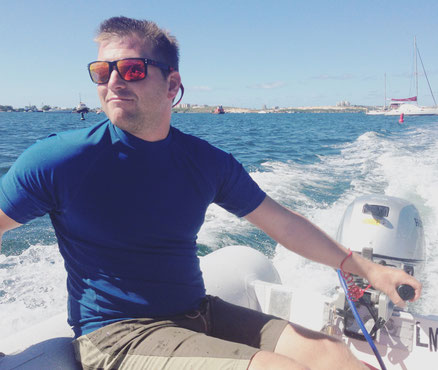 So for now, we keep floating in St. Martin, getting work done on the boat and waiting for the right window to head south. As much as I really want to set a plan in stone, I know this has to be fluid and ever-changing. It's the best and the worst part. I haven't been as home-sick these days and I am happy to dream about cruising longer, rather than always making a plan on what home life will look like once we get back. I think that is a good thing.
This trip might take us longer than one year, it might take us two, or we might be home for this summer. Who knows. We shall take it as it comes!
We welcome any new ideas or thoughts. Have you made route plans that you think are great or exciting? What would a dream route plan be? Feel free to share! I would love to hear what your journey would look like!